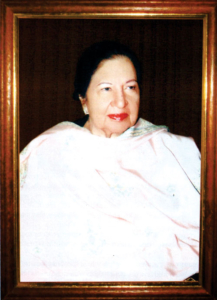 MRS RAZIA YOUSAF SAIGOL (LATE)
FGS was started by Mrs. Razia Yousaf Saigol (Late) in 1979. The worthy ex-directress Mrs. Razia Yousaf Saigol (Late)) was an educationist of repute and had dedicated her life to serve the cause of quality education for the prosperity of future generations of Pakistan.
Faisalabad Grammar School was started by Mrs. Razia Yousaf Saigol (Late) in 1979. In the beginning, classes 3 to 5 were run, and at that time there were only 30 pupils, 3 members of staff, 2 ayas and 1 office boy. The aim was to produce a wide spectrum of subjects for Matric and Cambridge International Examination (CIE) Ordinary Level (O-Level) students who study till class 10. The worthy ex-directress (Mrs. Razia Yousaf Saigol (Late)) was an educationist of repute and had dedicated her life to serve the cause of quality education, for the prosperity of future generations of Pakistan. The thought of dynamism and future actions must be translated into reality.
In 1982, there was an inspection by British Council which allowed Faisalabad Grammar School a Cambridge O/A Levels, CIE number (both for Boys & Girls) as PK 205 and PK 206. By that year, Faisalabad Grammar School was also permanently registered and recognized by Faisalabad District Education Department (at this time the school had 420 pupils enrolled). Junior, Middle and Senior Head Mistresses were employed. Faisalabad Grammar School was later known as FGS.
FGS was able, in 1985, to produce a promising batch of both Matric and O level students for examinations, which showed 100% results. Those pupils were happily involved in film shows, Laboratory use and also extracurricular activities like Music Bands, Sports, Art Shows and Carnivals etc, as well as Quran Khawani, Naat & Qirat competition and Prize Days.
FGS Group of Schools & Colleges since 1979 now stands with 5 branches, almost 2500 students, 250 teaching staff and other administrative staff members. It is very well respected in the community as a school that plays its part in being socially responsible.
In May 2011, FGS Board of Directors appointed Mr. Taha Zamir Hussain as the new Chief Operating Officer (COO) with the view to re-emphasize quality education and update FGS to be the leader alma mater.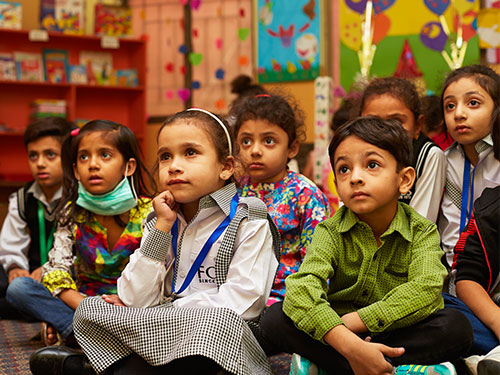 Our aim is to provide students with the academic foundation necessary for them to reach their true potential and to achieve the highest standards of intellectual and personal development. We are committed to developing students who are resilient and adaptable, and to instill in them a strong desire to learn, to take appropriate risks, and to accept challenges. We aim to ingrain in our students a high spirit of achievement and confidence in their own abilities.
Inspiring and progressive modern methods of 2Ist century education are involved in every field of the school and college education system, which are all English medium. The courses are suited to the challenges of modern life, foster national pride and a respect for all cultural norms and traditions. The Pupils have the availability of a wide choice of specialist fields, through innovative and distinctive approaches, which nurture all pupils multiple interests and inclinations. We not only delight in a broad programme of subjects but also a myriad of extra-curricular activities. FGS is dedicated to fostering a happy and supportive environment which motivates challenges, enriches and rewards each pupil.
Dear Readers,
Assalam-o-Alaikum,
We started our journey in pursuit of excellence in 1979, and have found it to be an ever-changing and ever-growing experience.
Since 1979, FGS has accomplished years of success and prosperity, by the blessing of Allah Almighty and the Holy Prophet (PBUH). FGS is playing a significant and vital role in the field of modern education.
It is the "sine qua non" that in fact, healthy minds in healthy bodies are the foundation of a healthy nation.
Our aims are academic, co-curricular activities and spiritual development, based on the culture of Pakistan as well as a balanced global outlook, which are essentially the priorities of FGS. To achieve our aims, it is critical and essential that excellent services are rendered by staff and pupils, with the wholehearted co-operation of all parents of students (who relish FGS custom – built schools with vast labs, libraries and playing areas).
In the light of our respected colleagues, parents' and advisors' precious suggestions, FGS keeps exploring ever-expanding horizons, and aims to consolidate lofty achievements in years to come.
The younger generations have proved, through their highly praiseworthy results and their magazine contributions, that they are capable of achieving sublime heights in the world of education, and in global competition,
Equally the Holy Prophet Hazrat Muhammad (PBUH) said, "To Seek knowledge is the duty of every Muslim, male and female", "Seek knowledge even though it is in China" and we Grammarians are proud to fulfill his (PBUH) sayings.
Dear Friends, Colleagues, Parents and Pupils,
Assalam-o-Alaikum,
I would like to pay a wholehearted tribute to all past, present students and staff, who have worked (and are working) for the benefit of a high quality and versatile group of students and their high pinnacles of attainment.
We want FGS to take its place in the society as a leading and innovative school, yet a school that is affordable.
We have introduced a fully computerized information system (EMS) that allows parents, staff and children to view all the information they require, on the click of a button, from the comfort of their homes.
The syllabus that is taught is updated regularly in line with the governing bodies such as IPC, CIE and BISE. However, updating what is taught is not enough; rather how it is taught is important. We have introduced pedagogies, which are currently being used in educationally-advanced countries.
Apart from the curricular, we pay a great deal of attention to co-curricular and extra- curricular activities. We have a calendar full of activities such as indoor and outdoor games, dramatics, gymnastics, yoga, karate, calligraphy and much more.
We have acquired tremendous achievements over the past few years. We have focused on building relations with local and foreign education providers so we may learn from one another. We have a joint venture signed with a Swedish company 'Nordic Ed' to set up a chain of high end K-12 schools across Pakistan called Nordic International School. This school will bring a blend of the International Primary Curriculum with a Swedish DNA but local anchorage. We believe that in today's world we must prepare GLOCAL citizens e.g. global perspective and exposure but anchored locally in their culture.
Moreover, we have initiated a NOT FOR PROFIT Teacher Training Institute called 'Innovative Teaching Institute' (ITI) which focuses on an Action Research Model. It encourages teachers to use their classrooms as laboratories, document all progress and then present it in the form of a case study. It provides a platform for teachers to connect with one another, to share best practices and learn from one another.
Message from Head of Operations
FGS inherits 38 years of 'Excellence in Education', inaugurating in September, 1979. It has retained and augmented in innumerable ways, its mission to provide quality education and foster a strong teaching environment that responds to future educational and social challenges.
FGS has a robust environment of learning producing top performers who have secured high positions in the Board of Intermediate and
Secondary Education, Faisalabad as well as in O/A levels Cambridge International Examinations. Our success, over the past three decades, is founded on our ability to respond positively to challenges and accept change. We continue to embrace new ideas and initiatives to reach astounding horizons.
Our gift is more than excellent academic education. Apart from achievement of pupils and an outstanding quality of teaching, behaviour and safety of pupils, leadership and management, are but two of the many areas we pride in.
We continue to have a fruitful partnership with all our branches – all proud to be part of the FGS community.
We believe in the power and value of education to change lives and change the world.
Message from Head of Academics
Today's education system is at a crossroad. Learning in the past was designed with the focus on training people to work in an industrial age. Today the world operates through mass information and services in a global setting, delivered through various media and technology. The skills required of today's students to function and contribute successfully are quite different from how they are in the main being taught in schools. Many jobs that young students today will engage in are not even designed yet.
So how will schools contribute and prepare students for success in their future life and work? Skills identified as 21st Century Skills include being able to Communicate their ideas clearly, work Collaboratively to complete tasks and be innovative, Think Critically and Creatively to solve problems and be Media and Technology literate. Within teaching and learning in schools, the focus will need to shift from "what" to learn (content) to "how" to learn (skills). This means moving away from a rote system of learning to a student -centered learning approach. Opportunities within real life, active and authentic learning environments across the curriculum that promote the development of these skills, will be the shift taken on by successful schools. Through these activities and experiences that expect sustained inquiry, curiosity, creativity, group work, independent learning, leadership and responsibility for healthy citizenship will prepare students for their futures.
FGS is preparing to take on the challenge and provide such learning experiences for the benefit of our children and our society.