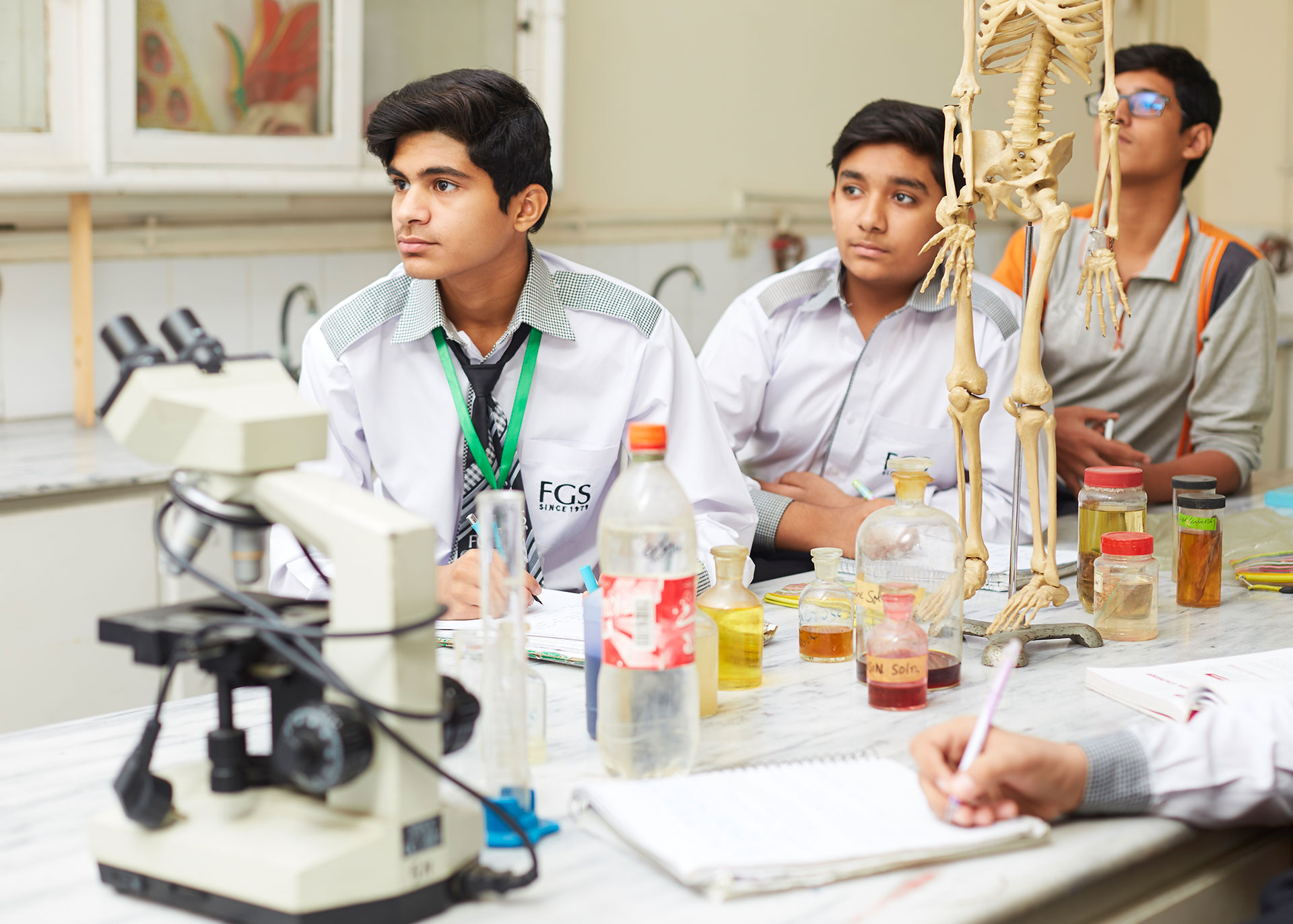 Senior School
Introduction
The School Campus is situated in the beautiful Kohinoor City, near Jaranwala Road, Faisalabad (Pakistan) and ideally accessible from all sides (due to public demand) and in a fresh, well ventilated and posh locality. The rooms are specially designed to fulfill their particular subject's pupils' requirements. It is the schools aim to avoid over-crowding, and also to foster a wide variety of subjects, in a well suited environment.
Therefore there are :- six Science Laboratories, three up to date Computer Science Laboratories, two fully stocked modern Libraries, Large Examination Hall, 4 infants play rooms; as well as modern general class rooms and study rooms (suited to Matriculation, Cambridge O/A Levels and Intermediate). Audio Visual Aids, CCTV and multimedia along with touch Interactive white boards are available. Two tuck shops are separately available for Girls and Senior Boys; and large playground spaces, with apparatus for games are available. Kohinoor City comprises of four sections i.e. Early Years with Baby Care Centre, Primary, Secondary Girls and Secondary Boys. Each Section is supervised by an independent Head of Section.
Secondary Boys Section is adjacent to (but separated from) the Secondary Girls' class rooms and laboratories. In more than three decades since the establishment of FGS, it has achieved substantial accomplishment and has built a sound reputation nationally and internationally. The extended facilities at our new campus have enabled us to further enhance the quality and diversity of our plans. Grammarians show extraordinary performance in O' Level, A' Level and Matriculation Examination every year.
Message From Head of Campus
I, as the Head of Campus of Kohinoor City, Jaranwala Road, Faisalabad, am very fortunate to work alongside Mr. Taha Zamir Hussain (Chief Operating Officer, FGS) and Mrs. Riffat Naveed (Head of Operations). Each day is filled with new experiences and learning for all.
Being a graduate of FGS is something to be treasured. One of the factors that makes this school truly great is that sense of lifelong commitment and connection.
I passionately believe the provision of a high quality educational experience can have a transformational effect on our young people. As a student, I have experienced this impact first-hand. As a parent, I share similar concerns and issues regarding our children's education. As a teacher, I carry invaluable experiences and lessons. Now, as an administrator, I am eager to combine all I have to offer. In essence we want for your child what we would want for our own.
For FGS, every student is a priority and every student can succeed. Our ultimate goal is educational excellence, through a rich curriculum and vibrant atmosphere. Built on a strong sense of community with commitment to character and integrity, FGS prepares its students to become influential participants and leaders in the world.
Dr.Muhammad Mushtaq-ul-Hassan
Message from Head of Section
FGS Secondary Boys is one of the integrated parts of FGS Group of Schools and Colleges. The dominant feature of this section is that it offers an inspiring atmosphere that opens doors to sought-after bright careers in Pakistan and overseas.
FGS is well-reputed for excellence in study (in O' levels as well as Matriculation). We aim to offer modern education in a cosmopolitan environment for all students through modern curriculum. Grammarians are equipped with modern knowledge and spoken English skills that allow them to act effectively in a globalised world. The history of FGS Secondary Boys is replete with marathon achievements in curricular and co-curricular fields.
The students of this alma mater boast of winning glittering prizes in HRC (Human Resources Consultant association), IKMC (International Kangaroo Mathematics Contest), IKLC (International Kangaroo Linguistic Contest) Spellathon (WWF) and many more competitive contests.
It is always an exciting experience to be a student of FGS Secondary Boys Section. This section has an enviable record in academic achievements as many students of this Campus have topped in BISE (Board of Intermediate and Secondary Education Faisalabad) as well as featuring distinctions in Cambridge International Examinations at regional and world level.
Saad-Ur-Rehman' clinched first position in Faisalabad Board Matriculation Examination held in March 2010.
Usama Ali secured 2nd position in BISE, Faisalabad during 2012.
Muhammad Hassan Moazzam, gained the Quaid-e-Azam merit scholarship during 2014.
FGS is richly known for its leading role in sports also. Fantastic Fixture Programs like karate, badminton, table tennis, cricket and swimming are also being offered.
Mr. Nadeem Shahid
Admissions
Age Group Criteria
| Grade | Age Groups |
| --- | --- |
| Seven | 12 – 13 years |
| Eight | 13 – 14 years |
| Nine | 14 – 15 years |
| Ten | 15 – 16 years |
Required Documents
Completed Admission Form
2 Photographs (2" X 2") of the child.
Birth certificate / B-form (Copy)
School leaving certificate (Original)
Medical fitness certificate (Original)
Proof of any chronic disability, disease or allergy i.e. asthma, polio, epilepsy etc.
N.O.C (If transferred from another board of education)
Handwritten application from parent stating whether interested in studying Cambridge or BISE.
Copy of NIC of both the parents / guardian
Previous class results.
Entry Tests
Students will be tested from 4 subjects – English, Urdu, Mathematics and Science.
The required passing mark for entry is 55% for each subject.
A copy of the syllabus can be obtained for the relevant class from the Admin Offices.
Note: Admission is given on the merit of admission test, interview and completion of relevant documents. School reserves the right to refuse admission and this decision cannot be challenged.
Admission Form
Please Click Here to download admission form.
Courses
O'Level
| | | | | | | | | | | | | | |
| --- | --- | --- | --- | --- | --- | --- | --- | --- | --- | --- | --- | --- | --- |
| Grade Seven | English | Urdu | General Science | Math | Social Studies | Islamiat | Computer | Spoken English | | | | | |
| Grade Eight | English | Urdu A | Math | Islamiat | PS 1 History | PS 2 Geography | Biology / Computer | Physics | Chemistry | Economics | Business | Urdu B foreign students | Spoken English |
| Grade Nine | English | Urdu A | Math | Islamiat | PS 1 History | PS 2 Geography | Biology / Computer | Physics | Chemistry | Economics | Business | Urdu B foreign students | Spoken English |
| Grade Ten | English | Urdu A | Math | Islamiat | PS 1 History | PS 2 Geography | Biology / Computer | Physics | Chemistry | Economics | Business | Urdu B foreign students | Spoken English |
Matric Stream
| | | | | | | | | | | | | |
| --- | --- | --- | --- | --- | --- | --- | --- | --- | --- | --- | --- | --- |
| Grade Seven | English | Urdu | General Science | Math | Social Studies | Islamiat | Computer | Art & Drawing | Spoken English | | | |
| Grade Eight | English | Urdu | General Science | Math | Social Studies | Islamiat | Computer | Art & Drawing | Spoken English | | | |
| Grade Nine | English | Urdu | Islamiat | Pakistan Studies | Math | Physics | Chemistry | Biology / Computer | General Math | General Science | Economics | Spoken English |
| Grade Ten | English | Urdu | Islamiat | Pakistan Studies | Math | Physics | Chemistry | Biology / Computer | General Math | General Science | Economics | Spoken English |
Faculty
| | | | |
| --- | --- | --- | --- |
| Teachers Name | Designation | Qualification | Experience |
| Mr. Nadeem Shahid  (HM) | Head of Section | MA (Eng), B. Ed | 24 Years |
| Mr. Khalid Rehman | Teacher | MA (Eco) | 24 Years |
| Mr. M. Abdullah | Teacher | MA Isl | 20 Years |
| Mr. Muhammad Zahid Sultan | PA to Head of Section | Matric/DCS | 20 years |
| Mr. Muhammad Ramzan (E) | Deputy Head of Section | MA English | 18 Years |
| Mr. Shoukat Ali | Teacher | M. Sc (Zoology B. Ed | 18 Years |
| Mr. Muhammad Siddique | Teacher | MBA (IT) | 17 Years |
| Mr. Safdar Ali | Teacher | MA (Isl) MBA (Fin) | 16Years |
| Mr. Shahid Majeed | Teacher | MA History MA Pak Studies | 16 Years |
| Mr. Shahzad Khalid | Teacher | B. Sc , MCS, | 16 Years |
| Mr. Nayyar Nasir | Teacher | MCS | 14 Years |
| Ms. Ayesha Latif | Teacher | MA Urdu | 14 Years |
| Mrs. Musarrat Perveen | Teacher | MA Urdu | 13 Years |
| Mr. Muhammad Ramzan (M) | Teacher | M. Sc (Mathematics) | 13 Years |
| Mr. Muhammad Rashid | Senior Teacher | MA Arabic, MA Islamiyat, MA Urdu B. Ed | 11 Years |
| Mr. Adeeba Gul | Teacher | M. Sc  Chemistry, M. Ed | 11 Years |
| Mr. M. Shafique (Lib Asstt) | Teacher | F. Sc B. Com part-I diploma in library | 10 Years |
| Ms. Sadaf Afzal | Librarian | Library Science | 10Years |
| Mr. Muhammad Rouf | Teacher | M. Sc Mathematic s | 9 Years |
| Mr. Muhammad Adnan | Teacher | M. Sc Physics | 8 Years |
| Mr. Usman Nazir Ahmed | Teacher | MA English, B. Ed | 8 Years |
| Mr. Muhammad Zubair | Teacher | MA English , MA Islamiyat. B. Ed | 8 Years |
| Mr. Sajjad Hussain | Teacher | M. Sc Phy | 8 Years |
| Mr. Faisal Hayat | Teacher | M. Sc Economics | 6 Years |
| Mr. M. Arslan Quimar | PTI | MA Physical Education | 3.5 years |
| Mr. Bilal Ahmad | Karate Teacher | Matric | 3 years |
| Mr. Ejaz Hussain | Teacher | M.A | 3 Years |
| Ms. Javeria Khalid | Teacher | M. Sc Biology | 3 Years |
| Mr. Muhammad Safdar (Junior) | Teacher | M. A English | 3 Years |
Facilities
Large, airy classrooms with modern furniture
Library and reading room
Fully equipped Computer Labs.
Fully equipped Science Labs.
Interactive Whiteboards with projector
Cafeteria
Play area
Assembly area
Uniform store
Stationery store
Security walk through gates
Doctor/Nurse
Pick and Drop Facility
Activities
Sports
Gymnastics
Yoga
Karate
Calligraphy
Debates
Trips
Variety Show
Carnival
Concerts
Dramas
Skits
Poetry
Spring Gala
Milad
National Days Celebration
Art and Drawing Competitions
Photography Competitions
Bilingual Declamation Contest
Musical Nights
Bonfire Nights
Fashion Shows
Participation in various competitions – IKMC , IKLC, WWF , ICTI
Gallery